Click here to buy tickets for Green Door at The King's Arms on 7th and 8th February 2020
Click here to buy tickets for Green Door at Square Chapel on Thursday 2nd April 2020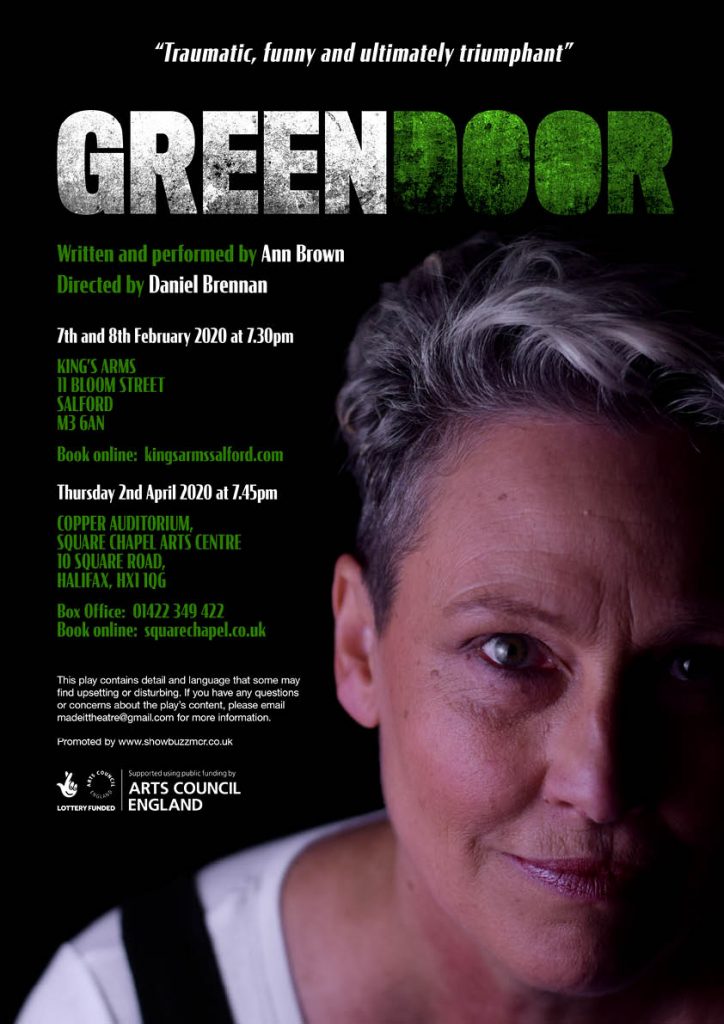 True, traumatic, funny, ultimately triumphant. Green Door is refreshingly rich in humanity and humour, weaving a love of Shakin' Stevens and shiny shoes into a disturbing story that affects far too many of us.
If you're living a horrible life, why don't you just change it?
Well, the trick is to recognise it's horrible in the first place.
Backed by Arts Council England and The National Lottery, writer and performer Ann Brown brings her inspirational, true-life story to The Kings Arms in Salford and Square Chapel in Halifax.
Undeniably brutal in places, Green Door is a story that will also make you laugh out loud – not least at some questionable dance moves – as Ann takes you on a journey that encompasses suffering, grief and fear, all somehow bound up with humour and, ultimately, the power of self-worth.
This story took its first tentative steps in 2018 as part of the Stigma showcase at The Kings Arms and returns to the place of its birth as a fully developed one act play. It is a must see for all mothers, fathers, sisters, brothers, daughters and sons. Ann's experiences are not unique to her, you will recognise yourself in her words.
Come along to The Kings Arms on Friday 7th or Saturday 8th February 2020 or Square Chapel on Thursday 2nd April 2020 to find out how one woman's eyes were opened to the truth of the life that she was being forced to live, and how each and every one of us has the ability to turn trauma into triumph.