Donations made to the live stream were given to community interest company EdShift who used it to create their SpotLight Intervention Programme.
What the British Theatre Guide Said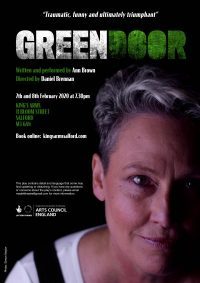 Ann Brown does not deny she intends her autobiographical play Green Door to raise awareness of domestic abuse and the corroding effect of low self-esteem. She concludes her solo performance by taking questions and declaring a willingness to tour educational establishments and community centres. Potential customers who are concerned this approach will push the play into the 'worthy but dull' category need not worry: this is a powerful, compelling and highly imaginative production.
In 1996 while on a disappointing holiday, Ann Brown meets the man of her dreams—he looks good in tight black trousers and shares her enthusiasm for the songs of Shakin' Stevens. Gradually, however, she comes to realise she has entered into a relationship with a manipulative liar who is not only violent but a probable rapist. Years of abuse lower Ann's self-esteem to the point where she feels unable to escape the relationship.
Green Door is a monologue but director Daniel Brennan does not let this hold back a strongly atmospheric production. The opening scenes, featuring Ann obsessing about her new lover, have an innocent giddy tone with Brown almost skipping around the stage. The lighting descending into moody shadows highlights Ann's growing misgivings about her lover while the onset of physical violence is shown in a terrifying blast of noise and the theatre plunging into pitch darkness. There is fine attention to detail—a tatty disco lamp and Brown's look of disappointment capturing a night out in a rundown seaside pub.
Ann Brown is the least pretentious actor in the business, cheerfully greeting and chatting with patrons on arrival and starting the show in a casual manner. It is easy to relate to the down-to-earth personality projected by Brown.
One of the aspects of domestic abuse that makes the subject so puzzling to outside observers is why anyone would stay in an abusive relationship. The rueful tone taken by Brown suggests she can understand this incredulity as the unsympathetic reaction of her mother was due largely to a sense of anger that Ann was not able to confide. Green Door shows how abuse can erode the self-confidence of the victim to the extent they become incapable of taking any action. Ann goes from being a worker to someone rendered unemployable having developed a debilitating stutter. A vicious circle develops with Ann constantly reminded of her unworthiness; she is even dependent upon her abuser for providing low-skilled employment.
The script for Green Door is highly evocative. There is a strong undertone of menace in the abuser's dialogue turning innocent phrases into threats. There is no doubt the controlling manipulation of the abuser and the mental suffering he inflicts is as awful as his physical violence as he pushes Ann to go through with a planned holiday despite the death of her father. Brown's dry sense of humour is apparent in the script, pointing out the ominous choice of "Bad Moon Rising" as first song at her wedding.
Green Door ought to be deeply depressing. However, the demonstration of Ann Brown recovering her self-esteem is an inspiring story of finding the courage to take the first step towards change told in an energetic and engaging manner.
Reviewer: David Cunningham
Go to: The British Theatre Guide
What Circles and Stalls Said
On a family break to Haven Holidays, Ann finds herself unexpectedly falling for good-looking barman Danny. His charming smile and shiny shoes attract her attention but it's their shared taste in music, including a love of Shakin' Stevens, that seals the deal. It was, she says, a "match made in heaven."
Three months after meeting they move in together, ten months later they are enjoying a holiday abroad, and then, "bang", he hits her.
Green Door is based on Ann Brown's own real-life experiences of domestic abuse. Performed as a monologue, it documents the violence and manipulation she endured, and how Danny's behaviour robbed her of any sense of self-worth.
Brown's open, conversational style effortlessly engages the audience. Her story-telling is more subtly layered than it lets on. Voicing other characters' words, recounting past events as if in-the-moment, or adopting the role of narrator, she switches perspective and time frame with deceptive ease.
The tightly-written script flows smoothly and is adept at managing changes in mood. Sparky dry humour nestles among more sombre events, and there are happier moments before Danny shows his true nature. Details of the violence and humiliation Brown suffered are recounted with chilling matter-of-fact clarity.
A sense of carefully judged restraint permeates Brown's performance. She is calm and measured yet emotionally direct. Her movements feel composed and purposeful, her actions reflective. Even the smallest details, like the placement of her hands, or the tilt of her head, can speak volumes.
Daniel Brennan's unfussy direction serves the production well and incorporates some sensitively applied theatrical touches. Simple but evocative lighting design enhances the staging. A stark spotlight exposes Ann's vulnerability, a faint sliver of illumination suggests hope at one point, and when the violence peaks, the theatre is plunged into total darkness.
Later, during a conversation in a cafe with another woman who suffered at Danny's hands, background chatter and the clatter of the cutlery can gradually be heard. It's as if Ann is reconnecting with the world around her, emerging from emotional isolation.
Green Door is undoubtedly a very personal piece of work. Brown welcomes audience members into the space, makes time within the narrative to talk about the show's development, and explains how involvement with theatre has played a vital role in giving her the confidence to move on. However, she is also acutely aware that this is not just about her.
In one rousing sequence, common cause is made with others, a reminder that this is far from being a one-off story, now or throughout time. "Fat women, ugly women, … stupid women, moody women… Slags, bitches, whores and witches. Hormonal harridans, the lot of us" she says. "Except we are not. That's just what some men, devoid of empathy, enjoy making us believe we are". Those words ring out like a call to arms.
While Green Door is a powerful and moving piece of theatre, Brown's underlying intention, set out so clearly at the start of the show, is to "tell you enough to make a difference". More than personal testimony, not just a cautionary tale, it is ultimately designed to inspire others to escape from similar situations. As if to reinforce that, Brown's parting shot sees her distil down the advice she would give to her younger self – you are not alone, speak to someone and "please know this, it's not you, it's them".
https://circlesandstalls.com/2020/02/10/green-door/
What Canal Street Online Said
Writer/performer Ann Brown has a story to tell. Her story. As we take our seats she's already front and centre, waiting for us with a big, welcoming smile. It's a subtle nod to the fact that even the most outgoing, seemingly confident person can go through the trauma that unfolds in 'Green Door'.
Events begin during a stressful family holiday with Brown, her two kids and her parents (her father living with Alzheimer's). Light relief is found in the company a charming resort barman with shiny shoes – a sign that you've found a good one according to her mother.
The burgeoning relationship is portrayed with humour as Brown joyously describes the thrill of new love whilst dancing to Shakin' Stevens (the title of the play a nod to one of Shaky's hits). This provides a light tone while, at the same time, allows the audience to appreciate that you can't always see what's coming. A sense of foreboding is never far away and when her partner eventually becomes violent there's no way to soften the many blows. The sense of isolation, exacerbated by the loss of her father, is clearly defined throughout the monologue.
The raw, honesty of the Brown's delivery is startling. Under Daniel Brennan's direction, it never becomes self indulgent. At no point does she offer a reason or excuses for the nightmare she experienced. Most importantly, Brown manages to present her story of domestic abuse from the perspective of a survivor, not a victim. This is key to the effectiveness of 'Green Door' which is ultimately a piece about self-worth and how you can come out the other end stronger.
At the after show discussion, talk of filming the piece to show in schools indicates that Brown's courage could also go on to play a significant part in education and prevention. I strongly suspect 'Green Door' will be back before too long and even more strongly advise people to attend.
Drew Tosh for Canal St Online
Green Door can next be seen at Square Chapel Arts Centre, Halifax.
7.45pm, Thursday 2 April 2020
https://www.canal-st.co.uk/box-office/canal-st-reviews/green-door-at-kings-arms
What North West End Said
"Green Door, what's that secret you're keeping?"
It is not often you see a powerful, heartfelt piece of theatre that also makes a point.
Green Door is a true story, simply told, with some lovely moments of humour and flashes of Shakin' Stevens (I can't say that I was ever a fan of old Shaky).
Originally, this piece was performed as a shorter, 20 minute, play in 2018 before the writer and performer, Ann Brown, expanded it into a fully formed 60 minute monologue. She tells her tale with confidence and wit. It is a dark story of domestic abuse, but it needs to be told.
Director Daniel Brennan makes sure the monologue can be performed in as unfussy a manner as possible. There are a couple of chairs on stage, a disco light and some sunglasses. Lighting is minimal and used to illuminate, or not, crucial moments.
This is a shocking story told in a simple down to earth way by a woman of sense. There are moments of romanticism, poetry almost, but nothing gets in the way of the narrative. Her intelligence and depth of feeling shines through and you can't help but be moved by her and what happened to her. It is, as she points out, not an uncommon story. With two women every week being killed by domestic violence, it is all too common.
Her story starts in the mid-nineties when she goes on a caravan holiday with her parents and two young children. One night she meets fellow Shakin' Stevens fan Danny and falls for his shiny shoes. Secrets and lies, love and deceit, depression and guilt all follow. She tells her story with such honesty and clarity you wonder how she fell for this man.
It is hard to make a monologue work effectively. Without light and shade a monologue can become, well, monotonous. This play was anything but that, it remained compelling to the end. Ann was such an engaging presence on stage you wanted to hear everything she had to say.
She hopes that this play will help other women. Once she had come out of the other side of her experience, she realised she was not alone. Ann knew she needed a platform to tell her tale. No longer would she be dismissed as a, 'mad woman.'
It is apposite that this play should emerge in the wake of the Harvey Weinstein scandal and the #MeToo movement. Her life may be a world away from Hollywood stars, but the effect of male control and violence are still the same.
After the play there was a question and answer session. Unfortunately, I couldn't stay for this, but Ann said she is happy to talk about her story for hours.
They are applying for an Arts Council grant to further develop Green Door. I hope they get it as this play deserves to be seen even if it does have Shakin' Stevens in it.
Reviewer: Adam Williams
www.northwestend.co.uk/index.php/professional-reviews/salford/5026-green-door-the-king-s-arms