A founder member of Manchester's 24:7 Theatre Festival, Amanda Hennessy's passion lies with new writing in both theatre and film. She is currently working with Bren O'Callaghan on the BFI funded binaural adaptation of Carnival of Souls, and is putting the finishing touches to 'Owen Parker' – her first feature film as co-writer and co- producer. Amanda brought her experience as a theatre director to Made It Theatre's first production, Valedictory.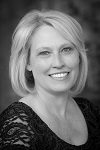 Working as a television presenter with her own show in Spain led directly to Ann Brown discovering a love of acting. The pursuit of her new found passion caused her to relocate to West Yorkshire to train and since then she's appeared on stage in productions including Blood Brothers, California Suite and Five Kinds of Silence and Build a Bonfire at JB Shorts in Manchester. Equally comfortable behind the scenes Ann has stage managed at The Lowry in Manchester as well as open air Shakespeare productions in Wales. Spotlight PIN: 6214-6758-8971
Meet playwright and actor Stephen Dodwell, without whom we'd be standing around on a stage desperately trying to think of something to say. Stephen has been acting for more than 15 years and has appeared in plays including Abigail's Party, Our Country's Good, The Odd Couple and Last of the Red Hot Lovers. His first play 'Cary Grant is Interested' featured at the Hebden Bridge Arts Festival in 2014 and his follow-up play 'Valedictory' was the first work performed by Made It Theatre in March 2015. His new play for 2018 is 'Powerhouse Town'.
Bruce Cutts is our photographer, has provided most of the images for this website and will be stalking us all the way through this creative journey that we've undertaken. Bruce's other great love is conservation and in-between photographic commissions you'll find him surrounded by nature in his work for Natural England. A lover of the British countryside, Bruce's current project is to photograph England's National Trails. Click to view his impressive portfolio.